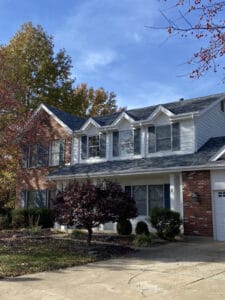 Finding a roofing contractor who you can trust is a very important part of replacing or repairing your roof. We have put together a guide of some questions you should ask before you hire a roof contractor.
Which roofing materials will you use on my roof?
Not all roofing materials are high quality. You want to ensure that all the different components of your roof are good quality.
Will you check for enough ventilation?
Your roofing contractor should check your existing attic ventilation and explain the important oof proper ventilation. Your current roof may not have enough and more will need to be added. Check out our article about roof ventilation to learn more about it. Your roofing contractor should be knowledgeable about attic ventilation.
Do you have adequate insurance coverage?
Your roofing contractor should carry general liability insurance to help protect your home against accidental damage. Before hiring any contractor for your home make sure they are insured.
Do you follow all local building codes?
Your roofing contractor should know and comply with all local building codes and get any permits required.
Will you install ice and water barrier?
There should always be some ice and water barrier between the shingles and wood deck. Depending on the code, design of the roof, and weather conditions this may be needed in several areas or just a few. Make sure you understand where ice and water barrier will be installed on your roof.
Do you install synthetic underlayment?
Roofing contractors will install either a synthetic or felt underlayment as the first layer under the shingles. You want synthetic underlayment, it is an advanced protection against leaks, water absorption, and mold.
Will you explain how my roofing system works?
Your roofing contractor should explain the entire roofing system and how all the parts work together. This explanation will allow you to make educated decisions.
Call us today at 314-344-3434 to request a free estimate.